Delta Community Supports, Inc. ("Delta") is a non-profit corporation, operating in Pennsylvania and New Jersey. Since 1977, Delta has been empowering individuals to live fulfilling lives through a wide-range of community-based services. From our foster care and adoption services to support services for adults with developmental disabilities, we help people grow and thrive through all stages of life.
Our mission is to enrich the lives of individuals and families through outstanding community-based supports and mutually rewarding relationships. The people we support and their families are our most valued customers. We start by making it all about them. Nothing makes us happier and prouder to say that on an annual basis over 2000 people are assisted by the services Delta provides.
Leadership
Delta is committed to being a leader in the field of human services. With a commitment to excellence that starts with the founder and CEO, David A. Wyher, Delta adheres to rigorous quality management practices following the frameworks of the Balanced Scorecard and the Baldridge Criteria for Performance Excellence.
As the father of modern management, Peter Drucker, once said, "You can't improve what you can't measure." This committed and steadfast approach to performance improvement has led to Delta being the recipient of the 2005 Keystone Award for Proficiency in Performance Excellence.
Performance Improvement is a way of life at Delta. It runs deep through every aspect of our services, and guides our vision and values.
Our Vision
To consistently represent "excellence" in the minds of those we serve by "creating richer lives from within."
Our Core Values
We believe we will best fulfill our mission and reach our vision by aligning ourselves with these core values:
Customer Focus
We recognize that the people we support are our primary "customers," including family members, advocates, state agencies, and all interested stakeholders. We commit ourselves to listen to them, learn from them, and understand that their key requirements must guide our services. Through building relationships and consistently exceeding expectations, we will earn their trust and confidence to become the provider of choice.
Operational Excellence
We understand that to continue to be successful in the delivery of services we must maintain our focus on continuous improvement. We will be diligent in the pursuit of excellence through benchmarking and acting on identified opportunities for improvement. We will employ a rigorous quality improvement process founded on recognized and proven principles.
Learning & Growth
We recognize that our biggest assets are our employees. We value supporting one another as a team so that every person may achieve their full potential and contribute to offering the highest standard of care. We are committed to creating a positive work environment that values each employee and fosters teamwork built on trust, honesty, and integrity. This includes providing benchmark compensation packages including benefits, ongoing training and development, career advancement, recognition for achievement, and respectful treatment of every person.
Stewardship
Practicing sound resource management will provide organizational stability and a foundation for fully achieving our mission. Developing best practices in accounting, human resources, and quality management will lead to a greater capacity to provide services to our customers. We are committed to utilizing technology and training as a mechanism to enhance organizational efficiency.
Accreditations and Awards
We're proud to be a part of the communities that we serve, so we're not shy about listing all of our accomplishments. Some of the institutions that recognize our staff efforts include:
2015 Fleet Safety Leadership Award from Orion Fleet Intelligence
2005 Keystone Award for Proficiency in Performance Excellence— based on the Malcolm Baldrige National Quality Award criteria.
Commission on Accreditation of Rehabilitation Facilities
Philadelphia DHS Performance Based Contracting Recognition for Permanence Results
City of Philadelphia Children's Crusader Award
Treatment Foster Care Performance Recognition
Delta was recently commended for our steadfast commitment to the inclusion of Fathers in your service delivery models to families and children, and named a 3FA agency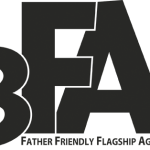 Locations
Exceptional care should be just about everywhere. That's why Delta offices can be found throughout Southeastern Pennsylvania and New Jersey. Find the nearest office here.
Delta Publications
Annual Report 2018-19 – Overcoming Hurdles To Show The Way
Download and read our annual report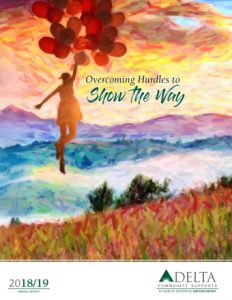 Annual Report 2017-18 – Changing Lives, Building Futures
Download and read our annual report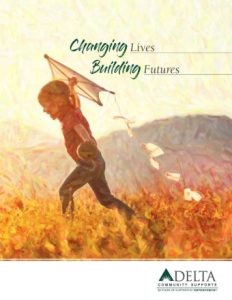 Delta New Jersey Employment Services Brochur

e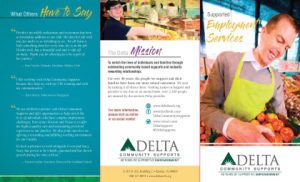 Delta Pennsylvania Employment Services Brochure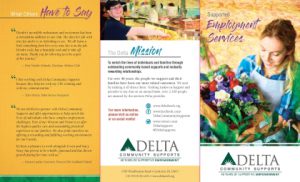 Delta Community Living Brochure