A Place to Call Home
In order to thrive, our children and teenagers need a safe, stable home environment. Delta makes this possible through a number of services created to help children grow, learn, and mature to reach their full potential.
Foster Care Services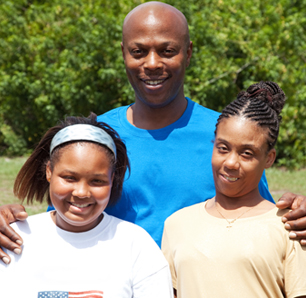 If you've been thinking about welcoming a child in your home as a foster parent, there are so many reasons why this can be a rewarding experience for both you and the child. Fostering can help establish a continued family support system for that child, during a time of transition to either adoption or returning to their birth parents. Family Foster Care (FFC) is a planned, goal directed service that includes providing:
24-hour care for children in an approved foster home (no more than six youth, including natural children)
Services to birth/legal parents (and other potential permanent caregivers) aimed at achieving permanency for children through reunification with birth/legal parents, adoption, or permanent legal custodianship
Services to prepare youth aged 14 years and older for independent living.
Becoming a foster parent
Ready to provide day-to-day care and share family life with a child in need? We offer a comprehensive support network for parents considering fostering a child. Learn more »
In addition to traditional foster care services, we offer these specialized support services:
Kinship Care
Kin refers to any individual who has a relationship with the child or the child's family. This individual can be related to the child through blood or marriage or be a godparent as recognized by the church, or be an influential part of the child's life. Delta believes in maintaining family ties as much as possible in order to best meet the child's needs and is proud to offer Kinship Foster Care, so that children can benefit from remaining with members of their extended family. During this time families receive caseworker counseling to aid all parties in their transition to permanency.
Delta provides foster care services in Montgomery, Bucks, Delaware, and Philadelphia counties. Contact one of our foster care specialists for more information.
Medical Foster Care
Delta's Medical Foster Care Program is designed to service children who come into care with physical and developmental struggles. Medical foster care focuses attention on the immediate and long-term health, well-being, and safety of the children in care. Medical Foster Care meets the special needs of children who have medical conditions that require daily care and monitoring.
Children eligible for Medical Foster Care may be:
Premature babies with resulting developmental impairments
Babies who have been exposed to drugs during gestation
Children with cerebral palsy
Children with multiple diagnoses and conditions
Treatment Foster Care
Delta's Treatment Foster Care program offers emotional support for children with special emotional and/or behavioral needs within therapeutic, structured family settings. The goal is to place the child permanently, and to help them reach their behavioral goals in the process. Ultimately, with a specialized treatment plan, the child can be "stepped down" to a lower level of care after successfully addressing the behaviors, and prevent being "stepped up" to a more restricted treatment plan.
TFC does take some training so if you are interested in becoming a foster parent for a TFC child, know that it is a commitment that requires emotional stability, an open mind, and a team approach. But you are not alone. TFC parents partner with agency staff, and advocate on behalf of the child to obtain education, vocational, medical, and recreational services in the community that support the treatment goals.
Adoption Services
What is adoption?
Adoption means you are permanently, and legally responsible for the care of a child. At Delta services we can help make the adoption process easier, so that future parents understand and meet all the requirements. We can also provide the necessary forms and paperwork, and help obtain legal council if necessary.
A safe, stable, and loving home can change the course of a child's life. Delta's Family Services unites families and children in the foster care system, providing any support they need for a successful union. All children who are in Delta's foster care program with a permanency goal of adoption are automatically included as a client of Delta's adoption program.
State Wide Adoption Network (SWAN)
Delta's adoption program also works to provide children waiting to be adopted through State Wide Adoption Network (SWAN) with other services besides finalization, which include: Child Preparation, Child Profiles, Child Specific Recruitment, and Post Adoption Services. All children and family's involved with these services are Delta's adoption program's clients as well.
Contact one of our adoption specialists to learn more.
Complete an adoption application.
Teen Outreach Program (TOP®)
Children ages 11-19
The teenage years are full of promise, but fraught with peril. Teens need guidance, acceptance and information to enable the positive futures they dream about. Delta's Teen Outreach Program (TOP®) empowers teens with the tools they need to develop into mature, productive, happy and healthy adults.
While searching for resources to help with this population, Delta became aware of the TOP® program developed by the Wyman Center, a nationally recognized provider of evidence-based outreach programs designed specifically for teens.
Activities conducted through the TOP® program help young people:
Enhance their life skills education
Set goals, manage time, and balance their lives
Believe in their ability, confidence, assertiveness and persistence
Learn healthy behaviors, and reduce their engagement with violence
Think critically about social environment, thoughts and actions
Form higher standards and a sense of integrity
Communicate effectively through enhanced skills and assertiveness
Analyze, problem solve, set priorities and make decisions
Have self-discipline, time management and balance
Learn social competencies to utilize appropriate behaviors in various circumstances
Evaluate and integrate physically and emotionally healthy choices for oneself
The TOP program has garnered grant support from the BNY Charitable Trust, Phillies Charities, and West Philadelphia High School Alumni Association. These clubs support us because our evidence-based curriculum is making a real difference in the lives of their youth members.
If you are interested in learning how to bring the TOP program to your school, please contact us.
Supervised Independent Living (SIL)
Teens and young adults (ages 17-21)
The SIL program provides a transitional setting for older teens preparing to live independently once they leave foster care. This program is open to young men or women, as well as young mothers with children still under the care of child welfare systems.
Young adults may be referred by their county's Department of Human Services to Delta's SIL program. SIL members live in their own apartments, with weekly visits from their Delta social workers. As part of the program, our young adults receive a wide range of counseling, mentoring, educational workshops and other learning opportunities designed to ensure that they:
attend regular school
participate in bi-monthly life skills class
receive assistance with job placement
are given the chance to engage in social opportunities
The program goal is to help every client build a strong foundation of skills needed to live as a successful and independent adult.
For more information about our SIL Services, or if you are interested in becoming a mentor, please contact:
Carmen Davenport
cdavenport@deltaweb.org
(215) 887-6300, ext. 141